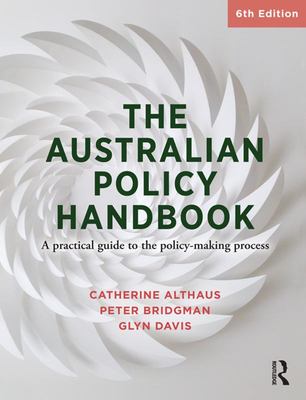 $55.00
AUD
Category: Reference
Public policy permeates every aspect of our lives. It is the stuff of government, justifying taxes, driving legislation, and shaping our social services. Public policy gives us roads, railways and airports, emergency services, industry development, and natural resource management. While politicians make the decisions, public servants provide analysis and support for those choices. Drawing on their extensive practical experience, the authors outline the processes used in making public policy. They systematically explain the relationships between political decision-makers, public service advisers, other community participants, and those charged with implementing the programs that result. The sixth edition of this widely used introduction is fully updated, and includes new material on the professionalisation of politicians, the role of opposition members, loss of corporate memory in the public service, addressing systemic policy failure, nudge economics and the impact of social media and the sharing economy on policy making and government. ...Show more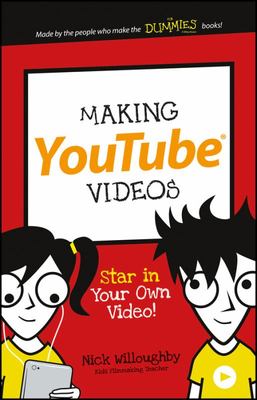 $14.95
AUD
Category: Reference | Series: Dummies Junior
The fast and easy way for kids to shoot, edit, and share videos on YouTube Does your child long to create and post videos on YouTube in hopes of becoming the next YouTube celebrity? Whether looking to go viral or simply wanting to make videos for their friends, Making YouTube Videos is the place your ki d should start. Written by a filmmaking expert who runs camps for wanna-be filmmakers as young as seven, this fun and friendly guide takes your child step by step through the process: from idea creation to production to sharing on YouTube. Written in a language they ll understand and filled with eye-popping graphics that make the information come to life, Making YouTube Videos takes the intimidation out of working with video technology and offers your child a friendly, trusted source for expressing their creativity. Kids will work through small projects with end-goals that help promote confidence. With content that is accessible and easy to understand, this book is ideal for youngsters who want to go solo or work with you or another adult instructor. * Introduces ideas on framing, lighting, and sound * Shows kids how to load a video, add transitions, and add effects * Provides easy-to-follow instruction on uploading a video to YouTube and setting who can see or not see their video * Explains how to grab free software and make simple edits, like cutting out scenes, adding to a timeline, and implementing transitions If you want to encourage your child s enthusiasm but don t want to endure a meltdown, Making YouTube Videos makes it easy for your aspiring filmmaker to fulfill his or her dream. ...Show more
$59.99
AUD
Category: Reference
A new edition of this popular atlas from the prestigious and authoritative Times Atlas range. This seventh edition contains the latest satellite images and fascinating historical images, and contains the breadth, scale and detail to make it an ideal reference resource for school, home and business. The atlas has been brought fully up-to-date to provide a detailed and attractive picture of the world today. The beautifully illustrated introductory section gives a detailed profile of today's world and covers major contemporary geographical and global issues - such as environment and population growth - through maps, images, statistics and graphics. The fully up-to-date reference maps give exceptional detail and provide accurate, accessible and attractive coverage, helping you explore the world. 44 city plans of the world's major cities, showing major places of interest, have also been revised. A comprehensive guide to the world's states and territories including flags, profiles and key facts in included, making this the ideal reference atlas for home, school or office. MAIN FEATURES * 104 pages of authoritative mapping of the whole world * Plans of 44 of the world's major cities * Geographical reference section with flags, statistics and facts for the world's states and territories * Statistics and world maps on major geographical themes, including earthquakes, population, cities, climate and the environment * The latest images of the earth from space * Historical mapping of the world from 1858 to the present day * 45,000 index entries ...Show more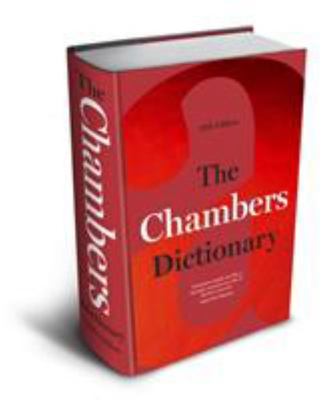 $30.00
AUD
$85.00
(64% off)
Category: Reference
***Fully revised and updated February 2016 to include additional 'enriching' words***   "The Chambers Dictionary is the most useful and diverting single-colume word-hoard available." Telegraph   First published in 1872, The Chambers Dictionary contains more words, phrases and meanings than any other single-volume English dictionary. Yet it remains lighter and easier to hold, and now has an even more durable jacket so that it will be a beautiful hardback reference for many years to come.   This 13th edition, new for 2014, retains the much-loved features of The Chambers Dictionary, including the unique quirky definitions for certain words. There are over 1,000 new words and meanings, and there is also a brand new two-colour Word Lover's Ramble at the back of the Dictionary, showing how English words and definitions have changed over the history of The Chambers Dictionary.   The Chambers Dictionary is now the UK's number 1 selling hardback dictionary. It is regarded as the dictionary of choice for crossword setters and solvers, and is popular with players of wordgames such as Scrabble(R) and Words With Friends(R). It is famous for its Scottish heritage, its thorough coverage of obscure words and its unique personality that comes across in a definition style that is both useful and witty.   "Chambers stands out like a baroque mansion in a city of faceless concrete." Melvyn Bragg ...Show more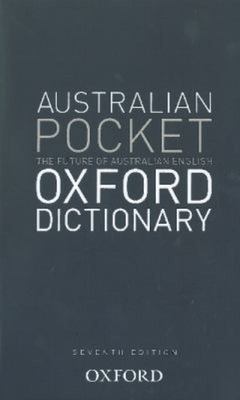 $29.95
AUD
Category: Reference | Series: Dict Ser.
The Australian Pocket Oxford Dictionary (APOD) is an indispensable guide to English as it is written and spoken in Australia. First published in 1976, the APOD is Australia's bestselling dictionary. Extensive and versatile, this dictionary is firmly established as Australia's favourite reference in scho ols, homes, and offices and provides unrivalled coverage of Australian English. Featuring over 500 new words, this eighth edition of the APOD commemorates 30 years of the Australian National Dictionary Centre at the Australian National University in Canberra. To celebrate this anniversary, a limited number of copies will feature a special edition cover. ...Show more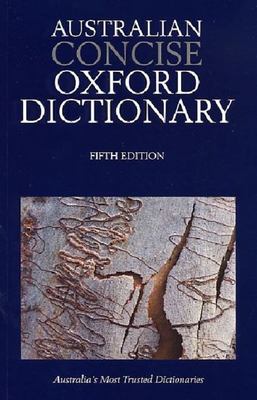 $39.95
AUD
Category: Reference | Series: Australian Dictionaries/Thesauruses/Reference
Also available in a handy paperback format, the Australian Concise Oxford Dictionary provides an authoritative description of Australian and international English unrivalled by other concise dictionaries. This fifth edition has been thoroughly revised and updated, with hundreds of new words you won't fi nd in any other dictionary. It provides unmatched coverage of Australian English for a dictionary in this format. The paperback 5th edition of Australian Concise Oxford Dictionary is the perfect companion at home, study or office for all lovers of Australian and International English. It presents those words that are current and relevant in the Australian context. No other Australian dictionary can claim its authority. This authority has two bases: the Australian and the international. The dictionary was fully edited at the Australian National Dictionary Centre in Canberra. Through Oxford University Press, the editor, Dr Bruce Moore, had access to the most comprehensive database of the English language as it is used worldwide-the same database that informs the twenty-volume Oxford English Dictionary-and to the most recent distillation of it in the Concise Oxford Dictionary. Through the Centre, the editor also had access to the largest citation database of Australian English, the source of Oxford's Australian National Dictionary. The fifth edition of the Australian Concise Oxford Dictionary is another product of this union, and heralds a new era in Australian lexicography. Australian Concise Oxford Dictionary 5th Edition New Words ...Show more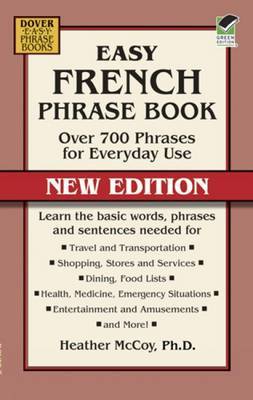 $6.99
AUD
Category: Reference
Over 700 French phrases and sentences include terms for modern telecommunications, idioms, and slang. Designed as a quick reference and study guide, this up-to-date volume is organized for quick access to phrases related to greetings, transportation, shopping, emergencies, and other common circumstances . A phonetic pronunciation accompanies each phrase. Dover Original. ...Show more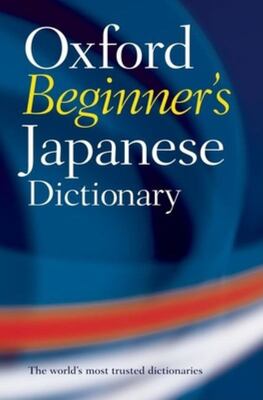 $29.95
AUD
Category: Reference
Each Oxford Beginner's Bilingual Dictionary is designed to offer English speaking adult learners a comprehensive, straightforward introduction to foreign languages, covering all the vocabulary needed for the first years of study, along with notes on grammar and usage and guidance on the culture where th e language is spoken.   These easy-to-use references break from standard dictionary design. Clear entries with examples showing how the language works in context make it quick and simple to find the translation you're looking for, and the bold, color layout makes the dictionary easy to navigate, allowing you to get to grips with the language fast. All main translations are preceded by an equals sign so that they are instantly identifiable, and all parts of the entry are spelled out in full, avoiding confusing jargon and abbreviations. Grammar and usage notes throughout the text warn of possible translation pitfalls, and thousands of example phrases show how the language is used in real life.   At the center of each dictionary is a section devoted to useful information on the country, countries, or regions where the language is spoken. This includes background on lifestyles and culture, tips on etiquette and interaction, and a phrasefinder that provides handy phrases for use when traveling abroad. The dictionary also includes a section on core vocabulary--all the words you absolutely must know at a beginner's level, whether you are a student, traveler, or business person.   The Oxford Beginner's Bilingual Dictionary is the perfect tool for adult language learners who need basic vocabulary at their fingertips fast. ...Show more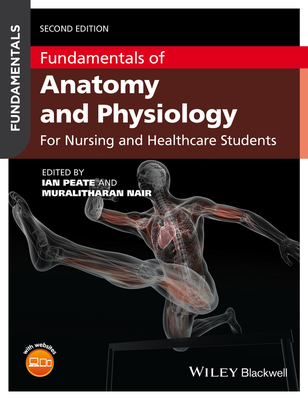 $24.99
AUD
Category: Reference | Series: Collins Easy Learning Ser.
Learn how to write 250 of the commonest Chinese characters, with stroke by stroke guidance on every page. With thousands of characters to learn, beginning to read and write Chinese is a daunting task. Aimed at learners, this book takes you through 250 of the commonest characters in a clear and accessibl e way. The meaning of every character is explained along with information about its radical, the compound words it can form, its history, and more. There is a practice grid on every page, showing how the character is written, with space for you to practise writing the character for yourself. It is generally agreed that learners of Chinese need a working knowledge of about 100 characters in order to make themselves at all understood and to travel in China, so Easy Learning Chinese Characters is a great place to start. ...Show more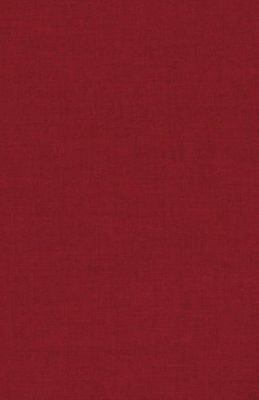 $140.00
AUD
Category: Reference
Designed to reinforce JC McKeown's Classical Latin: An Introductory Course, this innovative workbook offers a wide range of exercises, accommodating a wide range of learning styles, to help students master Latin morphology and vocabulary. Included are exercises involving parsing, correcting mistakes, co mpleting sentences by providing the correct inflected word ending, distinguishing words within an unbroken series of letters, recognizing word forms, unscrambling anagrams, and more. A superb supplement to a brilliant Introductory Latin textbook. ...Show more
$175.00
AUD
Category: Reference
The Australian National Dictionary (AND) is a dictionary of Australianisms. It includes words and meanings that have originated in Australia, that have a greater currency within Australia than elsewhere, or that have a special significance in Australian history. Whereas the first edition of the dictiona ry, published in 1988, contained about 10,000 headwords, compounds, idioms, and derivatives, this second edition contains over 16,000. The AND differs from general dictionaries in being based on historical principles, in the manner of the comprehensive Oxford English Dictionary (OED). The aim of AND2 is to chart the historical development of Australian words the definitions begin with the oldest sense and move through to the most recent sense. As part of this history, it includes all obsolete words and all obsolete senses; because it is concerned with the complete history of a word, the historical dictionary places more emphasis on the etymology of a word than does the general dictionary. The dictionary features a striking cover design and isbn 9780190306847 is a limited slip cased edition. ...Show more