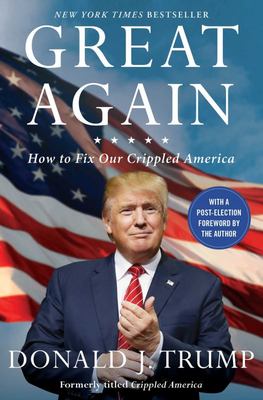 $6.00
AUD
$26.95
(77% off)
Category: Politics
In this book (previously published as Crippled America), we're going to look at the state of the world right now. It's a terrible mess, and that's putting it mildly. There has never been a more dangerous time. The politicians and special interests in Washington, DC are directly responsible for the mess we are in. So why should we continue listening to them? It's time to bring America back to its rightful owners--the American people. I'm not going to play the same game politicians have been playing for decades--all talk, no action, while special interests and lobbyists dictate our laws. I am shaking up the establishment on both sides of the political aisle because I can't be bought. I want to bring America back, to make it great and prosperous again, and to be sure we are respected by our allies and feared by our adversaries. It's time for action. Americans are fed up with politics as usual. And they should be! In this book, I outline my vision to make America great again, including: how to fix our failing economy; how to reform health care so it is more efficient, cost-effective, and doesn't alienate both doctors and patients; how to rebuild our military and start winning wars--instead of watching our enemies take over--while keeping our promises to our great veterans; how to ensure that our education system offers the resources that allow our students to compete internationally, so tomorrow's jobseekers have the tools they need to succeed; and how to immediately bring jobs back to America by closing our doors to illegal immigrants, and pressuring businesses to produce their goods at home. This book is my blueprint for how to Make America Great Again. It's not hard. We just need someone with the courage to say what needs to be said. ...Show more
$35.00
AUD
Category: Politics | Series: Penguin Classics Ser.
It is in this third volume that Marx sets out his central thesis that "the basic laws of motion of the capitalist mode of production lead to explosive crises and its ultimate collapse". Here we find not only a sustained economic and social description of capitalism as a system and the bourgeoisie as a c lass but also a full statement of why declining rates of profit and periodic crises of overproduction spell the inevitable end of capitalism and the likely birth of a far better society. This book was published by Engels in 1894. ...Show more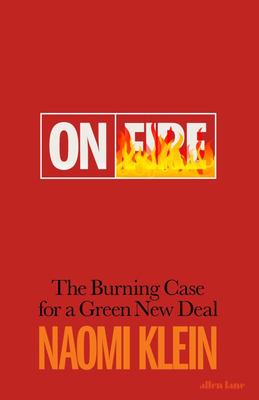 $29.99
AUD
Category: Politics
The fight for a green world is the fight of our lives. And with On Fire, Naomi Klein gives us the ammunition to do it. In frank, personal terms, she shows us how the only way forward out of a polluted world of our own making is only through policy reform - a concrete set of actions to combat the mountin g threat of total environmental catastrophe. What's needed, she argues, is something with radical verve and guaranteed protections- in other words, a New Deal. On Fire finds Klein at her most canny and prophetic, and the stakes of our imperiled global situation higher than ever before. In wide-ranging essays reporting from varying stages of ecological crisis - from prescient clarion calls from years ago to our panicked present - Klein wakes us up from our environmental sleepwalk and sets us on a course of potent, necessary action. ...Show more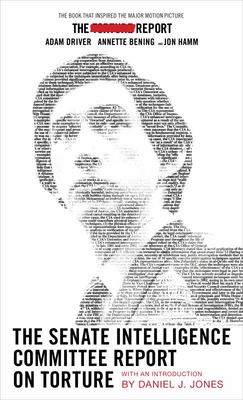 The Senate Intelligence Committee Report on Torture
by Senate Select Senate Select Committee On Intelligence; Daniel Jones (Introduction by); Dianne Feinstein (Foreword by)
$32.99
AUD
Category: Politics
"The most extensive review of U.S. intelligence-gathering tactics in generations." --Los Angeles TimesThis is the Executive Summary of the "Committee Study of the Central Intelligence Agency's Detention and Interrogation Program," a U.S. Senate investigation -- a.k.a., The Torture Report. Based on more than six million pages of classified CIA documents, this report details the establishment of a covert CIA program to secretly detain and interrogate suspected terrorists. Among other matters, the report describes the evolution of the CIA program, the use of the CIA's so-called "enhanced interrogation techniques," and how the CIA misrepresented the program to the White House, the Department of Justice, Congress, and the American people. Over five years in the making, it is presented here exactly as redacted and released by the United States government on December 9, 2014, with an introduction by Daniel J. Jones, who led the Senate investigation. --- NOW A MAJOR MOTION PICTURE The Report is a riveting thriller based on actual events. Idealistic staffer Daniel J. Jones (Adam Driver) is tasked by his boss Senator Dianne Feinstein (Annette Bening) to lead an investigation of the CIA's Detention and Interrogation Program, which was created in the aftermath of 9/11. Jones' relentless pursuit of the truth leads to explosive findings that uncover the lengths to which the nation's top intelligence agency went to destroy evidence, subvert the law, and hide a brutal secret from the American public. The Report is written and directed by Scott Z. Burns and features outstanding performances by a powerful cast led by Adam Driver, Annette Bening, and Jon Hamm. Sarah Goldberg, Michael C. Hall, Douglas Hodge, Fajer Kaisi, Ted Levine, Jennifer Morrison, Tim Blake Nelson, Linda Powell, Matthew Rhys, T. Ryder Smith, Corey Stoll, and Maura Tierney complete the powerful ensemble that brings this essential story to life. THIS EDITION OF THE SENATE INTELLIGENCE COMMITTEE REPORT ON TORTURE IS THE OFFICIAL TIE-IN TO THE MOTION PICTURE ...Show more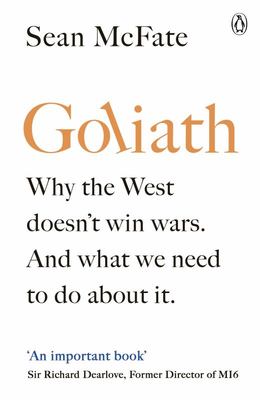 $22.99
AUD
Category: Politics
Everything you think you know about war is wrong. War is timeless. Some things change - weapons, tactics, leadership - but our desire to go into battle does not. We are in the midst of an age of conflict- global terrorism, Russia's resurgence and China's rise, international criminal empires, climate ch ange and dwindling natural resources. The stakes are high, and we are dangerously unprepared. As a former paratrooper and military contractor, Sean McFate has been on the front lines of deep state conflicts. He has seen firsthand the horrors of battle and as a strategist, understands the complexity of the current military situation. The West is playing the same old war games, but the enemy has changed the rules. In this new age of war- -technology will not save us, -victory will belong to the cunning, not the strong, -plausible deniability is more potent than firepower -corporations, mercenaries, and rogue states have more power than nation states, and loyalty will sit with the highest bidder. This is The Art of War for the 21st century. Adapt and we can prevail. Fail, and size and strength won't protect us. Learn how to triumph in the coming age of conflict in ten new rules. ...Show more
$34.99
AUD
Category: Politics
On a rainy Sunday in 2014, a senior executive at Deutsche Bank was found hanging in his London apartment. Bill Broeksmit had helped build the 150-year-old financial institution into a global colossus, and his sudden death was a mystery, made more so by the bank's efforts to deter investigation. Broeksmi t, it turned out, was a man who knew too much. In Dark Towers, award-winning journalist David Enrich reveals the truth about Deutsche Bank and its epic path of devastation. Tracing the bank's history back to its propping up of a default-prone American developer in the 1880s, helping the Nazis build Auschwitz, and wooing Eastern Bloc authoritarians, he shows how in the 1990s, via a succession of hard-charging executives, Deutsche made a fateful decision to pursue Wall Street riches, often at the expense of ethics and the law. Soon, the bank was manipulating markets, violating international sanctions to aid terrorist regimes, scamming investors, defrauding regulators, and laundering money for Russian oligarchs. Ever desperate for an American foothold, Deutsche also started doing business with a self-promoting real estate magnate nearly every other bank in the world deemed too dangerous to touch: Donald Trump. Over the next twenty years, Deutsche executives loaned billions to Trump, the Kushner family, and an array of scandal-tarred clients, including convicted sex offender Jeffrey Epstein. Dark Towers is the never-before-told saga of how Deutsche Bank became the global face of financial recklessness and criminality-the corporate equivalent of a weapon of mass destruction. It is also the story of a man who was consumed by fear of what he'd seen at the bank-and his son's obsessive search for the secrets he kept. ...Show more
$14.99
AUD
Category: Politics
On Palestine is Noam Chomsky and Ilan Pappe's indispensable update on a suffering region. Operation Protective Edge, Israel's most recent assault on Gaza, left thousands of Palestinians dead and cleared the way for another Israeli land grab. The need to stand in solidarity with Palestinians has never be en greater. Noam Chomsky and Ilan Pappe, two leading voices in the struggle to liberate Palestine, discuss the road ahead for Palestinians and how the international community can pressure Israel to end its human rights abuses against the people of Palestine. This urgent and timely book offers hope and a way forward for all those committed to the struggle to liberate Palestine. On Palestine is the sequel to Chomsky and Pappe's acclaimed book Gaza in Crisis. ...Show more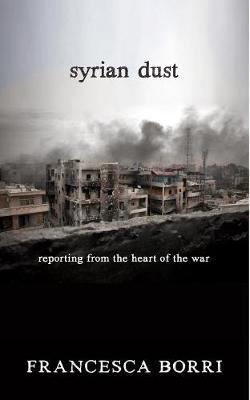 $32.99
AUD
Category: Politics
August 21, 2013: a chemical weapons attack on the suburbs of Damascus reminds the world of the existence of the Syrian war. Hundreds of journalists from every corner of the world rush to the frontier only to leave disappointed when Obama decides not to bomb. They leave behind 200,000 estimated victims, and more than half of a population of 22 million people dispersed or refugeed in nearby countries: the worst humanitarian crisis since WWII according to the UN. Francesca Borri is one of them. But she does not leave. She is thirty years old. For months she covers the battle of Aleppo as a freelance reporter. And she quickly realizes that to report a war is to hide with dozens of women and children, even a baby, born there, in a grave, 'a piece of soil under the ground that is as expensive as three houses' or to scavenge for anything to burn for some warmth, 'a broken slipper, the plastic hand of a toy' or to mistake bloody figments of skull for rubble. To report a war is also to meet with officials more worried about the stain of snow on their Clarks than the people they are supposed to help. It is to explain what is happening in Aleppo to journalists who have only been there once, on vacation, and bought a carpet. It is risking one's life because of the jealousy of a fellow reporter. And it is also about dreaming of driving at night with the windows open, about remembering impossible little things, the particular light on that day in that café at the beach when you were a kid, the eyes of people you love, all the minuscule simple joys that can be lost in a moment.   Syrian Dust is a raw and powerful account of the Syrian war that throws the reader right in the middle of it, without any shelter. ...Show more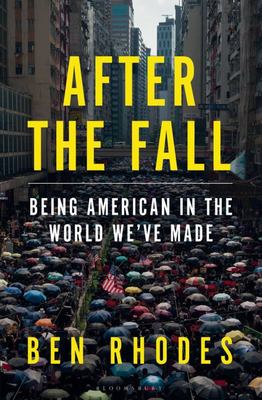 $29.99
AUD
Category: Politics
In 2017, as Ben Rhodes was helping Barack Obama begin his next chapter, the legacy they worked to build for eight years was being taken apart. To understand what was happening in America, Rhodes decided to look outwards. Over the next three years, he travelled to dozens of countries, meeting with politi cians, activists, and dissidents confronting the same nationalism and authoritarianism that was tearing America apart. Along the way, a Russian opposition leader he spends time with is poisoned, the Hong Kong protesters he comes to know see their movement snuffed out, and America itself reaches the precipice of losing democracy before giving itself a second chance.After the Fall is a hugely ambitious and essential work of discovery. Throughout, Rhodes comes to realize how much America' s fingerprints are on a world it helped to shape- through the excesses of the post-Cold War embrace of unbridled capitalism, post-9/11 nationalism and militarism, mania for technology and social media, and the racism that shaped the backlash to the Obama presidency. At the same time, he learns from a diverse set of characters - from Obama to rebels to a rising generation of leaders - how looking squarely at where America has gone wrong only makes it more essential to fight for what America is supposed to be - for itself, and for the entire world. ...Show more
$29.99
AUD
Category: Politics
Yes Yes Yes, written by two advocates intimately involved in the struggle for marriage equality, reveals the untold story of how a grassroots movement won hearts and minds and transformed a country. From its tentative origins in 2004, through to a groundswell of public support, everyday people contribut ed so much to see marriage equality become law.The book captures the passion that propelled the movement forward, weaving together stories of heartbreak, hope and triumph. It is based on personal memories and more than twenty interviews with key figures and everyday advocates from across Australia. It covers the movement's origins in 2004, when the Marriage Act of 1961 was amended to exclude same-sex couples, through to the unsuccessful High Court challenge, a public vote in 2017 and the Parliamentary aftermath. It reminds us that social change is possible and that love is love. ...Show more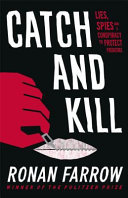 $34.99
AUD
Category: Politics
Ray: "Riveting. Compelling. The story of how Ronan Farrow held his ground against the powerful media establishment, unprincipled lawyers, public relations spinmasters, spies, to expose the sexual predations of Hollywood mogul Henry Weinstein. An Australian-born media executive tried to stop the book fro m being sold in Australia. Read Catch and Kill, and you'll be glad he failed."   In a dramatic account of violence and espionage, Pulitzer Prize-winning investigative reporter Ronan Farrow exposes serial abusers and a cabal of powerful interests hell-bent on covering up the truth, at any cost. In 2017, a routine network television investigation led Ronan Farrow to a story only whispered about: one of Hollywood's most powerful producers was a predator, protected by fear, wealth, and a conspiracy of silence. As Farrow drew closer to the truth, shadowy operatives, from high-priced lawyers to elite war-hardened spies, mounted a secret campaign of intimidation, threatening his career, following his every move and weaponizing an account of abuse in his own family. All the while, Farrow and his producer faced a degree of resistance that could not be explained - until now. And a trail of clues revealed corruption and cover-ups from Hollywood, to Washington, and beyond. This is the untold story of the exotic tactics of surveillance and intimidation deployed by wealthy and connected men to threaten journalists, evade accountability and silence victims of abuse - and it's the story of the women who risked everything to expose the truth and spark a global movement. Both a spy thriller and a meticulous work of investigative journalism, Catch and Kill breaks devastating new stories about the rampant abuse of power - and sheds far-reaching light on investigations that shook the culture. ...Show more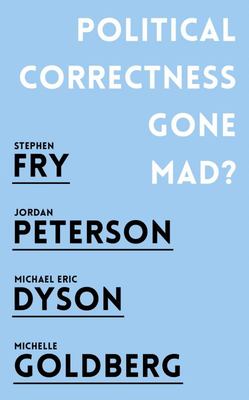 Political Correctness Gone Mad?
by Stephen Fry; Jordan B. Peterson; Michael Eric Dyson; Michelle Goldberg
$16.99
AUD
Category: Politics
"Without free speech there is no true thought." Jordan Peterson Is political correctness an enemy of free speech, open debate and the free exchange of ideas? Or is it a progressive force, eroding the dominant power relationships and social norms that exclude marginalised groups from society?